LATEST IN THE LAW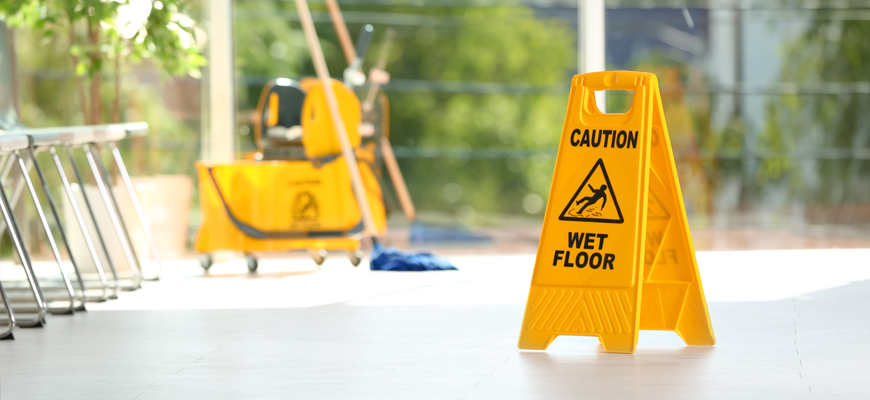 Different Types of Premises Liability Accidents
December 27, 2019
0 Comment
Category: Personal Injury
Premises liability accidents are very common in the US. They can occur to anyone and in any kind of property, be it parks, apartments, office buildings, malls, stores, parking lots, government establishments, or private homes. Below are some of the different types of premises liability accidents, which can lead to a lawsuit if the property owner was found negligent in following the reasonable duty of care.
Slip and Fall Accidents
Slip and fall accidents can happen due to many reasons, such as uneven floors, loose carpeting, spills, leakages, uncovered cords and cables, missing railings, etc. In some cases, a slip and fall lawsuit can be filed if the property owner failed to close off a construction site that led to slipping and falling of an individual. Moreover, the property owner can also be sued for slip and fall accidents if he/she fails to put up warning signs to notify people entering the premises about the known hazards. If you are a property owner who is being sued for premise liability it is important to find a reputable California defense lawyer to help you protect yourself and your business from false accusations and get the justice you deserve.
Water Park and Amusement Park Accidents
Water parks and amusement parks have the duty of care to maintain the premises in a safe condition for all visitors. They are responsible for maintaining the safety of the roller coasters, water slides, and all the rides in the park. Besides, the park authorities are also liable to keep the food service areas, line-up areas, and even the parking lots safe from any possible hazards. In fact, reasonable water park and amusement park owners should have knowledge of all the potential accidents that can happen on the premises and take adequate measures to avoid them. Failure to provide a safe environment for customers can lead to a personal injury lawsuit in case someone is injured on the premises.
Construction Site Accidents
Construction sites can typically have many potential hazards that may lead to an injury. That is why California law mandates all construction site owners to follow the standard safety regulations to prevent any kind of workplace accidents and injuries. Apart from that, the duty of care as per the California premises liability law also requires the construction site owner to keep the area safe for all people entering and exiting the property. The common accidents in a construction site that can lead to a premises liability lawsuit include crane accidents, ladder injuries, electric shock injuries, scaffolding accidents, and roofing accidents.
Stair Injuries
Stair accidents can be caused due to a number of reasons, such as broken steps, missing or broken handrails, rotted wood, etc. If an individual gets injured due to a stairway accident, a premises liability lawsuit can be filed against the property owner to seek compensation for the damages and injuries sustained as a result of the accident. That is because the property owner is responsible to make sure that the stairs are safe for walking up and down, repair the steps as soon as they are damaged, and put up warning signs of any potential hazards to avoid any kind of stairway accident. 
Injuries Caused by Animals
Injuries caused by animals are also considered a part of premises liability in California. This can include different situations where a hazardous property condition caused the animal to injure an individual. For instance, say a person is riding a horse on a farm where there are a few sinkholes. The property owner generally informs riders to avoid those, but he/she failed to do so this time. If the horse's hoof falls through a sinkhole, leading to a horseback riding injury to the rider, then the injured person can file a premises liability lawsuit against the farm owner for being negligent.
Elevator Injuries
Elevator accident lawsuits are usually filed to sue the person responsible for causing the injury. However, as maintaining the elevator in a safe condition is the responsibility of the property owner, he/she can also be sued in case of an elevator accident. This can be the case when the elevator is not operating properly and the property owner failed to repair the issues that could have avoided the accident.  Likewise, if any broken cables or chords are lying in the elevator that leads to a trip and fall, and causes injuries to a person, then the property owner can be sued for not maintaining the elevator in a safe condition. The property owner is liable to put up warning signs to notify people in the property about the hazards and elevator failures.
Home Accidents
Home accidents do not just include the members of the family but also others visiting the property. The most common home accidents that can lead to a premises liability lawsuit include burn injuries, inhalation injuries, poisoning, electric shock injuries, drowning, domestic worker injuries, chemical injuries, balcony accidents, staircase accidents, slip and fall injuries, etc. If a person gets injured in someone else's home because the homeowner failed to maintain the house in a reasonably safe condition, then the visitor who sustained the injuries can file a premises liability lawsuit against the homeowner. In some cases, the landlord may also be held liable for allowing unsafe conditions in the rental apartment.
If you are a property owner who has been accused of negligence it is important to know your rights and have as much evidence of the incident as you can, whether it's witness testimony or security footage, to help your California defense attorney protect you from premise liability or personal injury claims on your property.
Share This Story, Choose Your Platform!